Wettolsheim, a 3 Grand Crus vineyard area
Wettolsheim is the most important wine producer village in the Departement Haut-Rhin, between Colmar (capital of the Alsatian wine-growing district) and Eguisheim. The winegrowers of Wettolsheim grow, amongst others, the Grands Crus "Steingrubler", "Hengst" and "Pfersigberg", which produce the outstanding "Vendanges tardives" (from over-ripe grapes) and "Sélections de Grains Nobles" (best grapes selection in successive pickings).
• VIEW the list of the winegrowers in Wettolsheim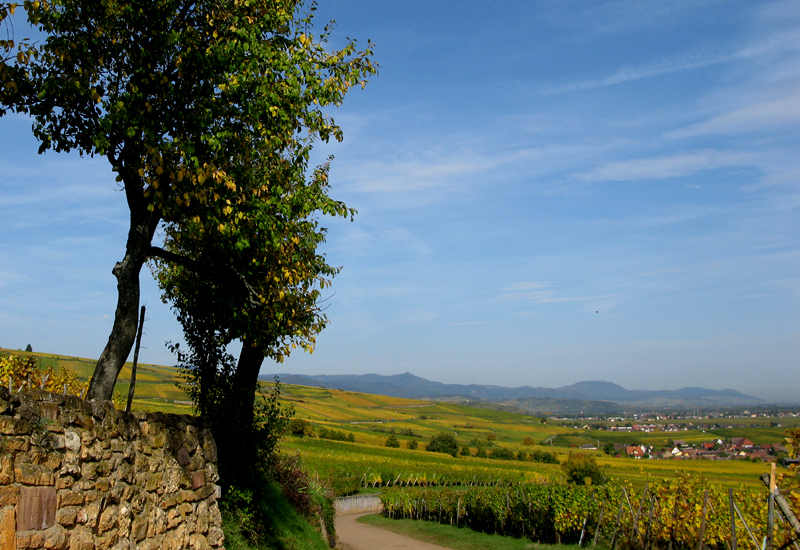 Steingrubler, an outstanding terroir
Set above Wettolsheim, the Steingrubler is a hillside exposed to south-east taking advantage of this exposure to the sun, in 280 to 350m altitude.
The name Steingrubler in Wettolsheim reminds of the stone pits, which are mentioned here since the 13 th century. 1487, the archives of the abbey of Marbach make mention of vineyards in the district of "Steingrub" where it was owner of numerous vineyards at the "Steingruben".
• VIEW the list of the winegrowers in Wettolsheim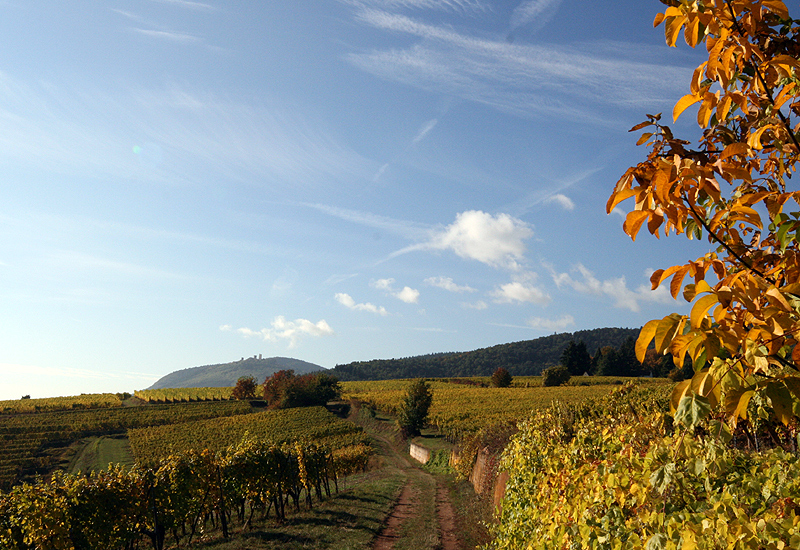 The soil reaching from marl with lime to potter's clay with sand is stratified on marl and oligocene conglomerate with lime, partially covered from granitic rubble, giving wines their own unique character.
The Grands Crus Steingrubler have best ageing potential. They are rich, refined, delicately fruity and full-bodied.

The Alsace Wines
• MUSCAT D'ALSACE
Dry and very aromatic. It is a marvellous appetizer wine, also suitable for receptions, and at dinner, a perfect companion of asparagus.
• PINOT GRIS
Rich, full-bodied and with a long finish. The partner of foie gras, white meats, venison and roasts.
• SYLVANER
Fresh, light and delicately flavoured. Ideal to go with seafood and charcuterie (cold cuts).
• PINOT BLANC
Well-rounded, delicately fresh and supple. It is the right medium in the Alsace wines, going with most of the dishes.
• GEWURZTRAMINER
Full-bodied and exuberant, seductive tough powerful, which gently caresses the nose and fills the mouth delightfully.
Excellent with exotic cuisine, strong flavoured cheese, and also as an appetizer and with dessert.
• RIESLING
Star among Alsace wines, dry, refined and delicately fruity. Incomparable if accompanying fish, crustacean, all seafood, white meat and, especially, sauerkraut. It suits perfectly to elaboratest dishes.
• PINOT NOIR
A dry wine, red or rosé, with cherry-like fruity character, sometimes maturated in oak-barriques. Develops its charms and originality accompanying red meat, charcuterie (cold cuts), goat's cheese or Gruyère-like cheese.
• EDELZWICKER
Harmonious blends of several white grape varieties. A light wine, pleasant with starters and to drink at every occasion.